Agenda, Regional Council November 9

Emergency Shelters
The major item on Council's agenda was an update and funding request on the emergency shelters that HRM is buying to provide housing for people who are homeless. HRM's plan is to buy modular units (like what you would find at a remote worksite) and then install them in two locations, one in Dartmouth and one in Halifax. The plan is for the Province to provide the support services. Buying modulars is a big step outside of HRM's mandate into Provincial territory, but the Province has simply been unable to effectively respond to the housing crisis we're in. HRM isn't equipped to deliver social services, but we can provide some space for those facing the greatest need. This is something that we can do to help.

To get some modular units as quickly as possible, HRM originally hoped to buy used units that were offered to the municipality. After inspecting the used units, however, HRM concluded that they weren't suitable for use because of their poor condition. HRM also determined that it wouldn't make sense to try and repair them. HRM exited the purchase agreement and has instead secured an option to buy brand new units elsewhere.

The bad news is that buying new from out of Province means that getting the modulars will take a little longer and cost a lot more. The good news is Council is still committed to the project and approved the needed $3.2 million. We're still going ahead because modulars are still the quickest way to create safe emergency housing spaces. Until the modulars are available, HRM will continue to use the Gray Arena as a shelter to ensure there is indoor space available.

In the report to Council, HRM also identified the Dartmouth location for the coming modular housing units. The Dartmouth modulars will be placed off Alderney Drive on an HRM owned parking lot between Church Street and Flotilla Lane.
I have had some feedback already on this. There is concern from some nearby residents and anger that no one consulted them about the placement of this facility. It is true that there has been no consultation on siting this temporary facility. I'm sorry about that. The situation we're in right now around homelessness, however, is a crisis that requires urgent action. HRM needed to find a spot that is close to existing services, and communities. We can't put a shelter out in the middle of nowhere! These facilities have to be where people already are. The Alderney site is centrally located, paved, has access to services, is zoned to allow for temporary emergency housing, and is one of the only pieces of municipal land in Downtown Dartmouth that doesn't have any significant other uses that would need to be relocated. It was really the only available spot.

Whenever new social service facilities are planned, there is always some concern from neighbours. Some of those concerns are legitimate, but experience has shown that well-run facilities rarely result in significant impacts on neighbours. I know this from my own neighbhourhood. The Elizabeth Fry Society owns a house on my street where they provide a safe space for women exiting the correctional system. When the Fry Society bought the property, there was a lot of concern, but those concerns have not been borne out in practice. There have been no problems and no one even thinks about the Fry Society being there anymore.

While it would be ideal to locate social services in neighbourhoods that are 100% in agreement with them being there, that situation will never exist. If we only located facilities in places where no one objects, than we wouldn't have any and society would be a much more brutal and heartless place to live. These services are needed and they have to go somewhere. Homeless residents are part of our community and after all, Downtown Dartmouth's motto is All Together. We're a caring community. It's who we are. Providing homeless residents with temporary rooms in a warm, safe place with on-site support services is better for everyone. As the mural just three blocks down from the Alderney site asks, "What is for the public good?" Providing temporary emergency shelter space for the homeless most definitely is.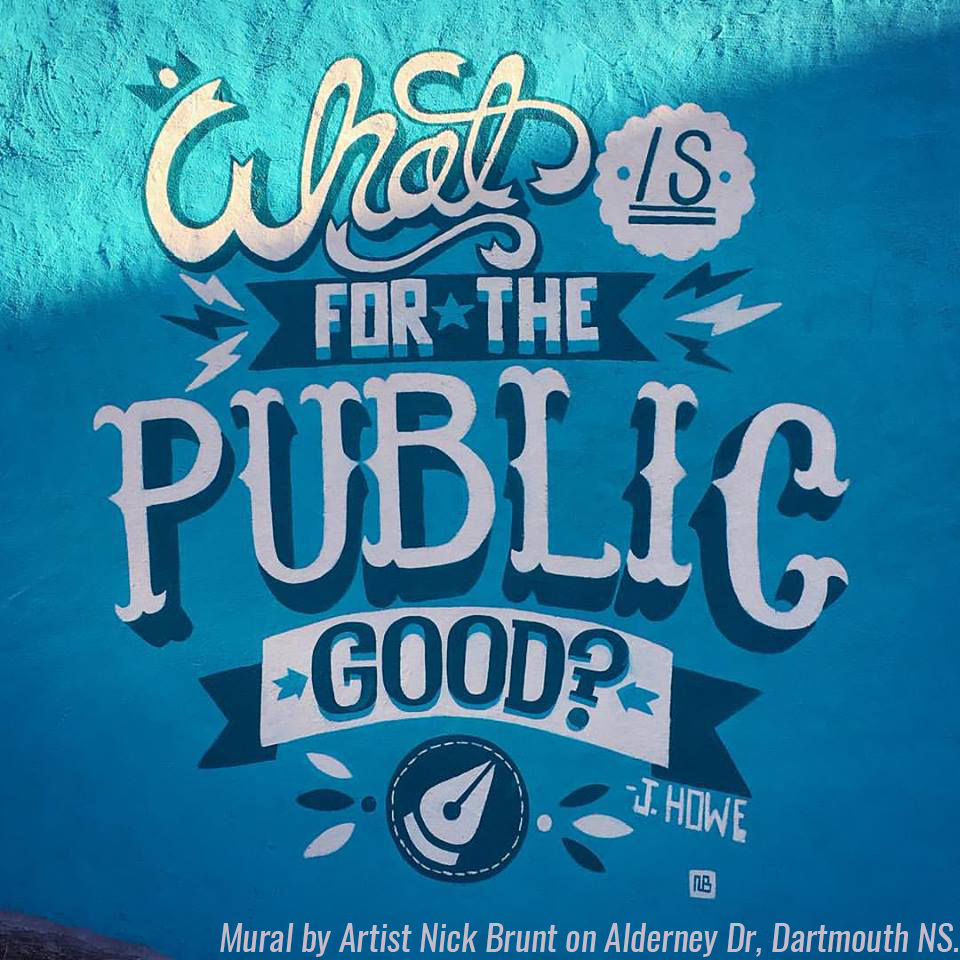 I'm in the early stages of planning several neighbourhood information meetings (likely one each for Alderney Manor, the Avery, and Harbourview). The purpose of the meetings will be to provide information about the project. The meetings are an opportunity for residents to ask questions and share concerns and for HRM to takeaway information that might help things operate more smoothly. It's important for people to have the opportunity to discuss this project. What isn't on the table, however, is locating this housing elsewhere. The reality is we're in a crisis and the decision to put these 24 temporary units on Alderney Drive has been made. The project is going ahead.
Dartmouth Common Snow Removal
The fall weather has been beautiful, but winter is just around the corner. You might recall that awhile back, Council had a report before us on snow clearing in HRM's parks. At that time, I asked for a supplemental report on clearing on the Dartmouth Common. On Tuesday, that report returned to Council.

The situation on the Common is the active transportation route that runs from the intersection with Wyse and Thistle across to Dahlia Street is cleared as a priority, but the rest of the Common is cleared only as resources allow, which means it can take days to circle back, if at all. My concern with that approach is the Common isn't just a pretty park space. With the Sportsplex, two schools, and Bridge Bus Terminal on the northwest side and Downtown Dartmouth on the southeast side, it's also the most direct path between several destinations. My ask of staff is to have a pathway from Park Avenue to Thistle Street cleared in addition to the existing priority route from Wyse to Dahlia. Staff agreed and will assess what routes can be safely cleared. I will share more in info on what the exact change will look like in my newsletter when I know more. I'm pleased with staff's response on this issue.
Otter Lake Contract
Council approved proposed modifications to the contract with Mirror, the operator of the Otter Lake landfill. The issue is the future of the front-end processor and waste stabilization units. HRM's assessment is that the processor and stabilizer are no longer needed because diversion rates have improved so significantly from when Otter Lake opened in 1999. The processor and stabilizer are very expensive to operate and, one of the conditions of HRM's new 20 year contract with Mirror is the company can opt for early termination if approval to shut down the processor and stabilizer isn't reached. In the event that the agreement is terminated early, the cost per tonne would then increase from $130 to $170, which totals well over a million a year. If Mirror wants to terminate the contract early, they have to do so by December 31, 2021. The clock is ticking!

After getting approval from Council to shut down the processor and stabilizer, HRM and Mirror have submitted a joint recommendation to modify the landfill's operating permit to the Province. The Province has responded, and has asked HRM to undertake public consultation in residential areas within 5 kms of Otter Lake. That means that a decision from the Department of Environment won't arrive before the contract's December 31 deadline.

Rather than forcing Mirror to exercise their option, HRM has agreed to extend the contract terms for another year and pay Mirror based on the $170 fee that they would get if they exercised their right to early termination on December 31. Assuming a decision from the Province sometime in late 2022/2023, staff expect an additional cost to HRM of about $1.6 million, an expense that would become an annual expense if the Province ends up rejecting the requested permit change. Hopefully the Province will reach a decision quickly.

Provincial Planning
I have written previously about the Province's decision to create a closed door planning panel that could approve development in HRM and modify the municipality's existing plans. I'm not a fan of this potentially major interference in HRM's jurisdiction. Replacing our public planning process with secret deliberations isn't a good idea and could be used to significantly undermine the work that HRM has done to ensure that development is located where it makes the most sense. I addressed the MLA's on the Province's Law Amendments Committee, as did the mayor and HRM's CAO. My ask was for the Province to make the Taskforce's deliberations public. My presentation below:
Unfortunately, the government wasn't willing to amend the bill. Although the mayor, CAO, and I spoke at Province House, Council as a whole hasn't had a chance to formally address the issue. On Tuesday that changed as I put forward a motion directing the Mayor to write the Premier and Minister of Municipal Affairs and Housing to formally state (1) Council's objection, (2) to indicate that our participation in the panel isn't an endorsement (we don't have much choice), and (3) to request again that the panel's deliberations be held in public.

Although the government didn't approve any of the opposition motions to amend the bill to make the panel's meetings public, there is nothing in the legislation that actually requires the panel to meet in private. The Province could still change their mind. It seems a faint hope at this point, but it's not done yet. In the event that the government proceeds with their secret planning panel, my motion also directed the CAO to return to Council with options for us to consider in response. I anticipate that none of those options will be good ones! We'll see where this goes over the next few weeks.
Other
Held a public hearing to approve changes to the Municipal Design Standards (aka Red Book)
Increased the contract for repairs to Centennial Pool
Changed the makeup of the Western Common Advisory Committee to replace one member at large with a dedicated seat for the Resources Opportunities Centre
Scheduled a public hearing to amend the Regional Plan to create commercial development districts in all serviced areas (prerequiste to averaging commercial assessment increases)
Scheduled a public hearing to allow a multi-unit residential development in West Chezzetcook
Amended the Marketing and Special Events administrative order to allow a councillor to serve as the chair of the committee
Awarded the redo of the Halifax Common Pool contract and increased the budget
Awarded the contract for the fire department paging system upgrades and increased the budget
Requested staff reports on cooperating with Research Nova Scotia, selling land in Sackville to the Cobequid Cultural Centre, and on a review of the Noise Bylaw
Directed the CAO to complete an ecological study of Sandy Lake to identify from a scientific point of view what lands should be protected
Set the Council meeting schedule for 2021
Scheduled a heritage hearing to consider adding 5663 Cornwallis Street to the Registry of Heritage Properties