News
Banook Water Quality
With the World Canoe Championships coming to Banook this year and the lake's importance for recreation and public life in Dartmouth, I wanted to open this newsletter with an update on the activities that have taken place coming out of the 2020 Pollution Control Study. The study made a number of recommendations most of which are in motion. Here's what's been done.

If you walk around Banook regularly, you've likely noticed the pigeon netting on the Circumferential Bridge. The Bridge was identified as a source of e-coli, which isn't surprising since there were 100s of pigeon's living there. Their perch directly over the water created a very direct path for droppings to go from pigeon to lake. The netting has needed some tweaking to fully close the bridge space off and the size of the flock has been greatly reduced. Work to pigeon proof the bridge is ongoing.

HRM has also installed a rain garden at Prince Albert Road and Sinclair Street. This is the first time HRM has used a rain garden to deal with street runoff. The idea is to allow nutrients and pollutants running off the road to settle in the garden rather than washing into the lake. The rain garden was installed last year and is, so far, working as intended. It will hopefully become a prettier spot as the plants establish themselves and begin to grow.
It's not possible to install rain gardens on every street that drains into Banook so one of the recommendations in the Pollution Study was to increase the frequency of street sweeping on nearby streets. This year, the municipality has added an additional street sweeper to HRM's fleet to do just that and is currently hiring to operate it. Street sweeping will take place regularly on streets within 250 metres of Banook and Micmac instead of the once or twice a year that is otherwise the norm in Dartmouth. So if you notice the street sweeper seems to be out and about a lot more than normal around Banook, it actually is, and water quality is the reason why!

The other piece of major ongoing work has been with Halifax Water. Since human ecoli was identified in some outflows into Banook and Micmac, Halifax Water has been busily checking their system for issues. They haven't been able to find any obvious signs of human waste in the system in any of the outflows into Banook or Micmac and they have checked to make sure all properties around the lakes are hooked up to the sewer system. Halifax Water has sampled 22 outfalls and cleaned out infrastructure where e-coli counts were higher than expected. Again, no visual signs of human waste were found. Halifax Water will be continuing the investigation this spring in areas where there were higher ecoli counts. Work has also been done investigate whether illegal disposal from RVs in parking lots could be a source. More work is needed, but so far, no obvious sources of human contamination have been found.

Lake Watchers
Still with lakes, HRM is launching a new Lake Water Quality Monitoring Program called Lake Watchers. The program will conduct environmental monitoring in 76 lakes across the municipality, including all of District 5's lakes except Martin's Lake and Sullivan's Pond. Data collected through the program will help inform future actions to maintain and improve a lake's health. Results will be shared with the public through HRM's open data portal and reports to Council.

Data collection will take place twice yearly through a year through internal sampling (staff or contractors). HRM is, however, hoping to build community stewardship as well by involving community volunteers, aka Lake Watchers. HRM will work with existing water groups, such as the Oathill Lake Society, but new volunteers and groups are also welcome to get involved. To express your interest in volunteering, and to learn more, visit the HRM webpage here.
Southdale Future Growth Node New Submissions
There has been a new application submitted for the Southdale Future Growth Node. The new owner of the large block of land off Research Drive adjacent to Dartmouth South Academy has submitted a preliminary plan to redevelop the site. The intent is to demolish the old buildings and redevelop the property as residential. The initial submission envisions nine apartment buildings ranging in height from four to eight stories.
The other update in the Southdale planning process concerns Clayton's application. Clayton has revised their plan to shift the location of the proposed park space from the Gaston edge of the site to a more central location that is contiguous with Eisner's Cove marsh. The new plan also has some other changes, including a potential pathway connection to Gaston Road and shifting the position of one of the Mount Hope apartment buildings to be closer to the road and farther from the marsh.
Old Clayton Plan
Revised Clayton Plan
HRM intends to hold additional online public engagement around the Southdale Future Growth Node to gather public feedback in the near future. I will share those opportunities in my e-newsletter when they becomes available.

As a reminder, the Province has taken over planning for the Southdale Future Growth Node and all the normal planning processes have been suspended. The final decision on development at Southdale will not be made by Council in public, it will be made by an unelected taskforce in secret and then approved by the Minister of Municipal Affairs. Council has been completely sidelined and the public's ability to provide input and influence the outcome has been severely curtailed. I strongly object to this trampling of local planning, and democracy, but HRM has been given no choice in the matter (see my March e-news for more details on that).
Old Post Office
If you've been by the Old Post Office in the last little while, you might have wondered what was going on? Why is the building enclosed by scaffolding? The Post Office Building was sold in 2021, but not before HRM registered the property as a heritage building. I have met with the new owners and was very pleased to find they have good experience in heritage restoration (Keith Hall in Halifax). The owners are looking at their options for the site, but even before any development plans are finalized, they're moving ahead with restoration work on the old stone building. The existing stone is being cleaned, and damaged areas will be restored. The owners are also planning to replace the windows and have been remediating asbestos. The Old Post Office property is quite large and retaining the Post Office building still leaves a large parking lot at King and Queen that could be developed. I haven't seen any plans, but I'm optimistic about what the future has in store for the Old Post Office given the new owners words, experience, and, importantly, their actions so far.

Since the Post Office is a registered heritage building, any redevelopment plans will have to come before Council as a development agreement, which means there will be a public process to consider what happens at this landmark location. Stay tuned.
Portland Street Brick Repairs
You might recall me writing about the deteriorating state of the brickwork on Portland Street in the past. It has been a complaint of mine for the last several years and something I have hammered away at during budget deliberations. Staff understand there are issues with the bricks and have dedicated some resources to repairs over the last few years. While our in-house crew does amazing work, there are, unfortunately, not enough of them. It just hasn't been possible to get all the bricks fixed in previous years. That is hopefully going to change this year.

The plan this year is for Road Operations to replace all the remaining old sections. Work is expected to start this coming week, starting at the Alderney/Ferry Terminal end of the street. HRM isn't expecting that there will be major disruptions from this work, but there could be some minor inconveniences and detours around specific spots and the temporary use of a parking spaces adjacent to areas where work is being undertaken. Apologies in advance for any inconvenience. It really needs to be done. I'm very pleased to see this getting the priority it needs.

Litterati
There is a new app for your smart phone. HRM has launched Litterati, an interactive tool to collect data on litter trends around the municipality. Users of the app upload and tag photos of litter found in their community. The data collected will be used by HRM to help identify where litter clean ups are taking place, track trends in the types of litter, identify illegal dump sites, and to inform waste education efforts. For more information, visit the HRM web page here.

Great Nova Scotia Pick-Me Up
Still on the topic of litter, a reminder that the Great Nova Scotia Pick-Me Up has launched for 2022. The Pick-Me Up is a centralized registry for community organized litter clean-ups. It's organized by Nova Scotia Adopt-A-Highway and is supported by HRM. The purpose of the Pick-Me Up is to support and promote community litter clean-ups. Anyone, from community groups to individuals, can register a clean-up and clean-ups that are registered two weeks in advance are posted to the Pick-Me Up's site and are shared on social media. HRM provides free supplies (gloves and bags) to organized clean-ups, which can be picked up at library branches. HRM offers three option to get rid of waste collected during a clean-up:
Curbside

: Garbage and recyclables can be disposed of by dividing what is collected among participants and placing it curbside with regular household waste (six bag limit for garbage applies).
Drop off at the Otter Lake: Contact Halifax Solid Waste (wasteless@halifax.ca) at least two weeks in advance to arrange for free drop-off directly at Otter Lake
Collection by HRM staff: If a clean-up needs assistance with removing trash, arrangements can be made to have HRM collect it from a central location. Please call 311 two weeks in advance to arrange for pick up
For more information check out the Great Nova Scotia Pick-Me Up's website and follow the Pick-Me Up on social media, including facebook and twitter

Volunteer Awards
HRM's 2022 Volunteer Awards have been awarded. The Volunteer Awards shines a well-deserved spotlight on residents that make a difference in our community. District 5's winners this year are Heather Ritchie, Shabad Kaur, and Peter Walker. Heather Ritchie and Peter Walker are dedicated soccer coaches and Shabad is a youth recipient who has demonstrated leadership and dedication in all the activities that she participates in. Congratulations to all.
Shubenacadie Canal Commission Kayak Raffle
The Subenacadie Canal Commission is launching its first kayak raffle. One lucky person will win two Quest 10 Kayaks and associated gear from Freedom Canoe and Kayaks. Funds raised through the raffle will go towards improving access to the Shubenacadie Waterway. Tickets are $5 and can be purchased online here.
2022 Weekend Bridge Closures
Halifax Harbour Bridges has a busy construction season coming this year with $40 million worth of repairs to the Macdonald and MacKay Bridges. There will be 10 weekend closures to get the work done, but there will never be a time when both bridges are closed. Here's the schedule:

Macdonald Bridge Weekend Closures
July 23- 24 Bearing replacement
Sept. 10-11 Bearing replacement and E Joint (bikeway/sidewalk closed too)
Sept. 24 -25 Bearing replacement and E Joint (bikeway/sidewalk closed too)
Oct. 8-10 Bearing replacement
Oct. 15-16 Dartmouth approach span resurfacing
Oct. 22-23 Dartmouth approach span resurfacing
Oct. 29-30 Dartmouth approach span resurfacing
MacKay Bridge Weekend Closures
Aug. 13-14 Approach span resurfacing and hanger coating
Aug. 20-21 Suspended span resurfacing and hanger coating
Aug. 27-28 Approach span resurfacing and hanger coating

Backyard Fires
With the weather turning nice, people are once again seeking to enjoy the outdoors. The rules around backyard fires aren't always well understood and improperly managed fires create a lot of unnecessary alarm calls for the fire department. Here's a reminder on how to make sure your summer fun is within the rules.

Before lighting a fire, check to see if the Province is allowing fires that day by visiting their website here (updated at 2:00 pm each day). HRM will either be coloured green, yellow, or red depending on conditions, which determines when and if fires are allowed.

🟢 Green = open air wood burning is allowed, beginning at 2:00 pm
🟡 Yellow = open air wood burning is allowed, beginning at 7:00 pm
🔴 Red = open air wood burning is not allowed

If burning is allowed, the next step is to make sure your setup meets HRM's rules. For urban areas with water and sewer service, like District 5, you're allowed one outdoor burning appliance without a permit if it is
placed a minimum of 4.75m (15ft) from any building
not placed on a wooden deck or combustible platform
fueled with dry seasoned wood only
equipped with a spark arrester with no opening large than 9.65 mm (3/8″)
used according to the manufacturer's instructions
HRM doesn't allow campfires or burning brush or domestic waste in urban areas. There are no limits on the use of propane or natural gas appliances as long as the manufacturer's instructions are followed. Please burn responsibly.

Canada Summer Jobs
The federal government's Canada Summer Jobs program has opened for 2022. Youth 15-30 can apply online here for employment. New jobs are being added regularly so keep an eye out for new listings. There are currently 1,190 postings for Dartmouth!
Public Consultation
Urban Forest Survey
Now – May 15, 2022
HRM is inviting residents to participate in an online survey about the municipality's urban forest and the work HRM does to grow, protect, and manage it. The urban forest includes street trees, trees in sidewalk planters, and trees in parks and natural areas. The survey is designed to help staff better understand what aspects of the urban forest are important to residents and help inform decisions on future program priorities and services such as tree pruning, and planting. The survey is available until May 15. You can access the survey here
Woodside – Shearwater Active Transportation Functional Plan
Thursday, May 26, 6:00 – 8:00 pm
North Woodside Community Centre
A project I have been long looking forward to is finally entering into the planning phase: how to connect the Harbour Trail to Shearwater Flyer. When these two sections of off-road trail are joined together, it will become possible to go from Lawrencetown Beach all the way to Downtown Dartmouth without travelling on any streets. It's a key piece of the regional recreation network and is especially important considering that the gap on Pleasant Street is very unpleasant right now for anyone on foot or bike. This project will also look at Pleasant Street from the Ferry Terminal to the North Woodside Community Centre. This section of road that has claimed two lives in the last two years and I'm hoping that this project will identify options to make this section of road a lot safer. HRM will launch a webpage for the project on May 24. I'll share the link on facebook and twitter when it's available.

Active Transportation Wayfinding Signage
You might have noticed over the last year that some new signage was added to the Harbour Trail near the Alderney Ferry Terminal. The signage was part of an HRM pilot program to try out a new approach to wayfinding along HRM's trails. Signage was also added on the Chain of Lakes Trail, Mainland North Trail, Sackville Greenway, and the Vernon/Seymour Local Street Bikeway. HRM is now looking for feedback on how useful the directional signage is and what HRM can do to further improve wayfinding. There are two surveys to take online here.
Council Update
To keep you informed about what is going on at Council, I'm writing a regular blog after each meeting. Each of my entries is about what I saw as noteworthy from a District 5 perspective and my views on the issues. We might not always agree, but I think it's important to provide a record of how I voted and why.

Council Update, May 3
The makings of a new strategy around sheltering in public spaces, enhancements to the low-income residential tax relief program, and assessment averaging for commercial taxes. Read about it here.
Council Update, April 5 and 12
The museum strategy and what's next for planning for a new home for the Dartmouth collection, plus the 2022 budget and what it means for District 5. Read about it here.

Council Update March 22
Funding request for the next phase of the Sawmill River project, Mi'kmaq place names coming to Dartmouth Cove, virtual Council meetings post-COVID, and HRM's living wage policy. Read about it here.
Tenders
With the construction season upon us and the approval of HRM's budget, the tender space is getting busy again.

Awarded
Newcastle Street Park Playground

, $162,800 (Elmsdale Landscapping)
Elmsdale's award is actually two playgrounds in one, with the $162,800 buying a new playground at Lincoln Cross Park in Halifax as well

Alderney Landing Pedway Elevator

, $107,950 (TK Elevator)

Milverton Road sidewalk repairs

, $264,200 (Ocean Contractors)
Ocean's award also includes repairs to Eisner Boulevard in Portland Valley
Tendered
Shade Structure Albro Lake Park

, closing May 11
Councillor Mancini and I have dedicated district funds to building a picnic area at Albro Lake Beach.

Planning for active transportation improvements around Grahams Grove, Main Street, Penhorn, Waverley Road

. closing May 5
Hiring a consultant to do planning work for how to make the Circumferential and Parclo less of a barrier. Public consultation to come later this year
Events
Harbourview Clean-Up
Saturday, May 7, 10:00 am
The residents of Harbourview (Fairbanks Street and area) will be carrying out their annual clean-up. Meet at Catherine Furness Park on Hare Lane to help Harbourview look its best.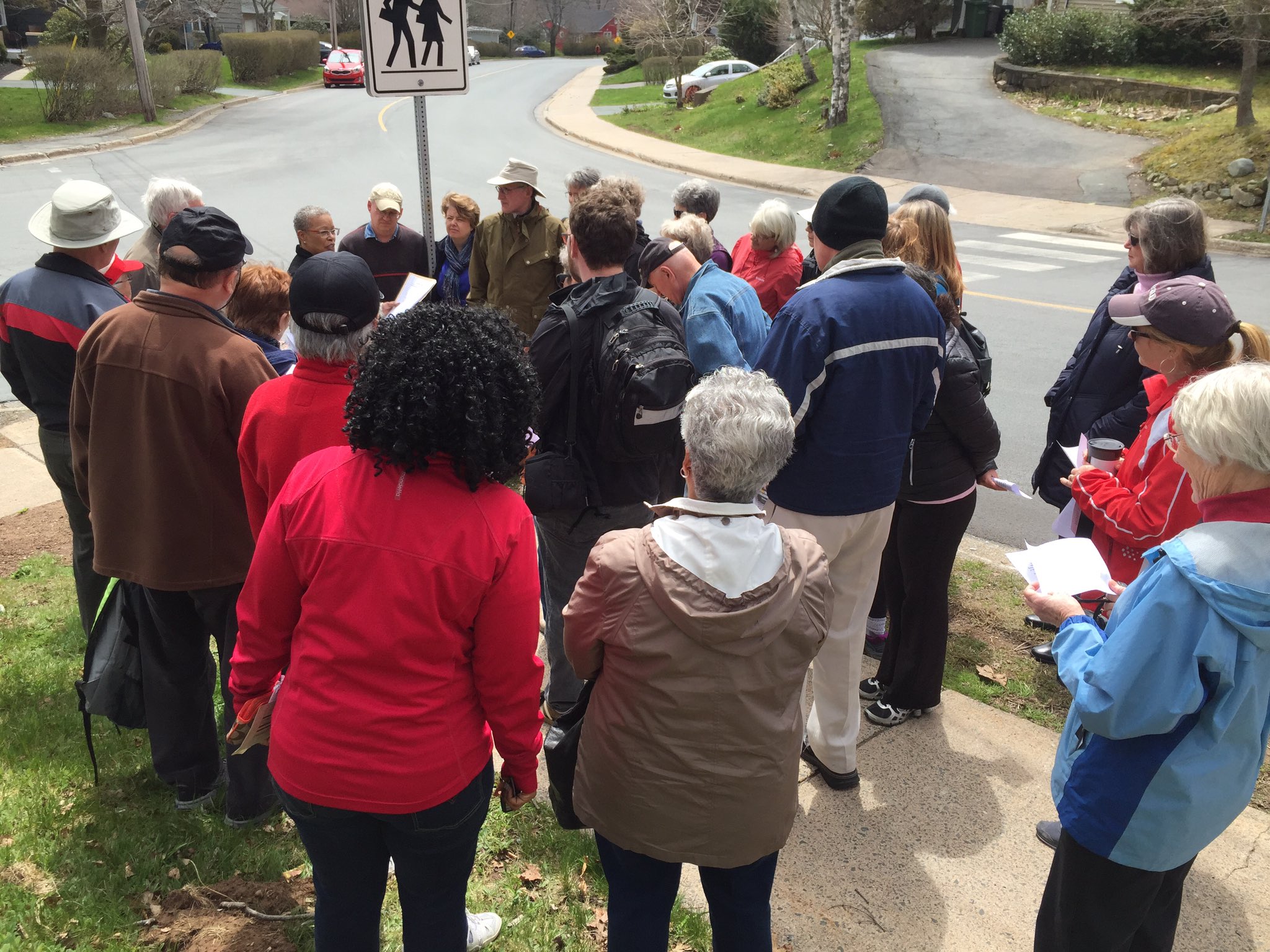 Jane's Walk
Saturday – Sunday, May 7 and 8
Jane's Walk is back for another season in Dartmouth. This year's event has a whack of Dartmouth walks:
Learn to Bird, Saturday, May 7, 9:00 – 10:00 am
Meet at Birch Cove Park
Banook History: Dartmouth's First Lake, Saturday, May 7, 10:00 am – 12:00 pm
Meet at Lion's Beach
Downtown Dartmouth Geology, Saturday, May 7, 1:00 – 2:30 pm
Meet Dartmouth Common parking lot off Wyse Road
Oathill Lake – Hike with Mike, Saturday, May 7, 1:00 – 1:30 pm
Meet Oathill Lake Crescent
A Magical History Tour: Public Education in the Town of Dartmouth, 1830-1960, Saturday, May 7, 3:00 – 4:30 pm
Meet Old Post Office (corner of King and Queen)
The Art of DARTmouth, Sunday, May 8, 3:00 – 4:30pm
Meet at Findlay Community Centre
There are other walks going on on the Halifax side too. For a complete listing of everything on offer this Saturday and Sunday check out the Jane's Walk page here.

Greater Burnside Business Association AGM and Lunch
Thursday, May 19, 11:30 am – 1:00 pm
Best Western Plus, 15 Spectacle Lake Drive
Join the Great Burnside Business Association for some networking, lunch, and their AGM. The event will take place at the Best Western in Burnside. To register for the event click here.

Penhorn Lake Area Trails Association Clean-up
Saturday, May 14, 10:30 am
Penhorn Lake Beach
Come join the Penhorn Lake Area Trails Association for their annual clean-up. Help ensure this jewel in Dartmouth is clean and looking its best! Gloves and garbage bags provided and BBQ at the beach after the work is done. Check out PLATA's event page for more info here.

Halifax Cycling Coalition AGM
Wednesday, May 18, 7:00 pm
Virtual
HCC will be holding their annual general meeting on May 18. Besides learning what HCC has been up over the past year, the online meeting will include two presentations, one from Sara Kirk on Canada's first national cycle count, and one from Natalia Diaz-Insense of Walk N' Roll on active school transportation. All HCC members are welcome. You can register for the AGM here.

Dartmouth Horticultural Society Plant Sale
Saturday, May 28, 9:00 – 11:00 am
Christ the King Church, 320 Flying Could Drive, Cole Harbour
After a COVID hiatus, the Dartmouth Horticultural Society's plant sale is back. Come support the Society and find some new treasures for your garden.

Oathill Lake Society Plant and Book Sale
Saturday, May 28, 12:00 – 3:00 pm
54 Lorne Avenue
The Oathill Lake Society will be holding a fundraiser on Saturday May 28 (rain date May 29). Over 100 plants on offer including fruit, vegetables, annuals, and perennials.